Marine Life Science and Technology (MLST) is a quarterly journal in English that publishes articles which contribute new results in all areas of marine life science and technology. It will be launched on Nov. 30, 2019, sponsored by Pilot National Laboratory for Marine Science and Technology (QNLM) and Ocean University of China (OUC) with both online and print versions. Prof. SONG Weibo, Academician of the Chinese Academy of Sciences, serves as the Editor-in-Chief of MLST. Springer Nature corporation provides services for the worldwide publication and distribution of the electric version of MLST.
MLST aims to provide a platform for professionals and researchers to contribute innovative work in all fields in association with marine life. It covers all scope in regard to marine life, bioresources and biotechnology. The official website (http://mlst.ouc.edu.cn) and ScholarOne manuscript system (https://mc03.manuscriptcentral.com/mlst) are online. Now we are calling for papers for the coming issues of MLST and cordially invite researchers all over the world to submit manuscripts. At the same time, we appreciate your recommendation of MLST to relevant research area. We will deal with every single manuscript carefully and scientifically, in order to promote the exchange of the latest scientific discovery in the science community.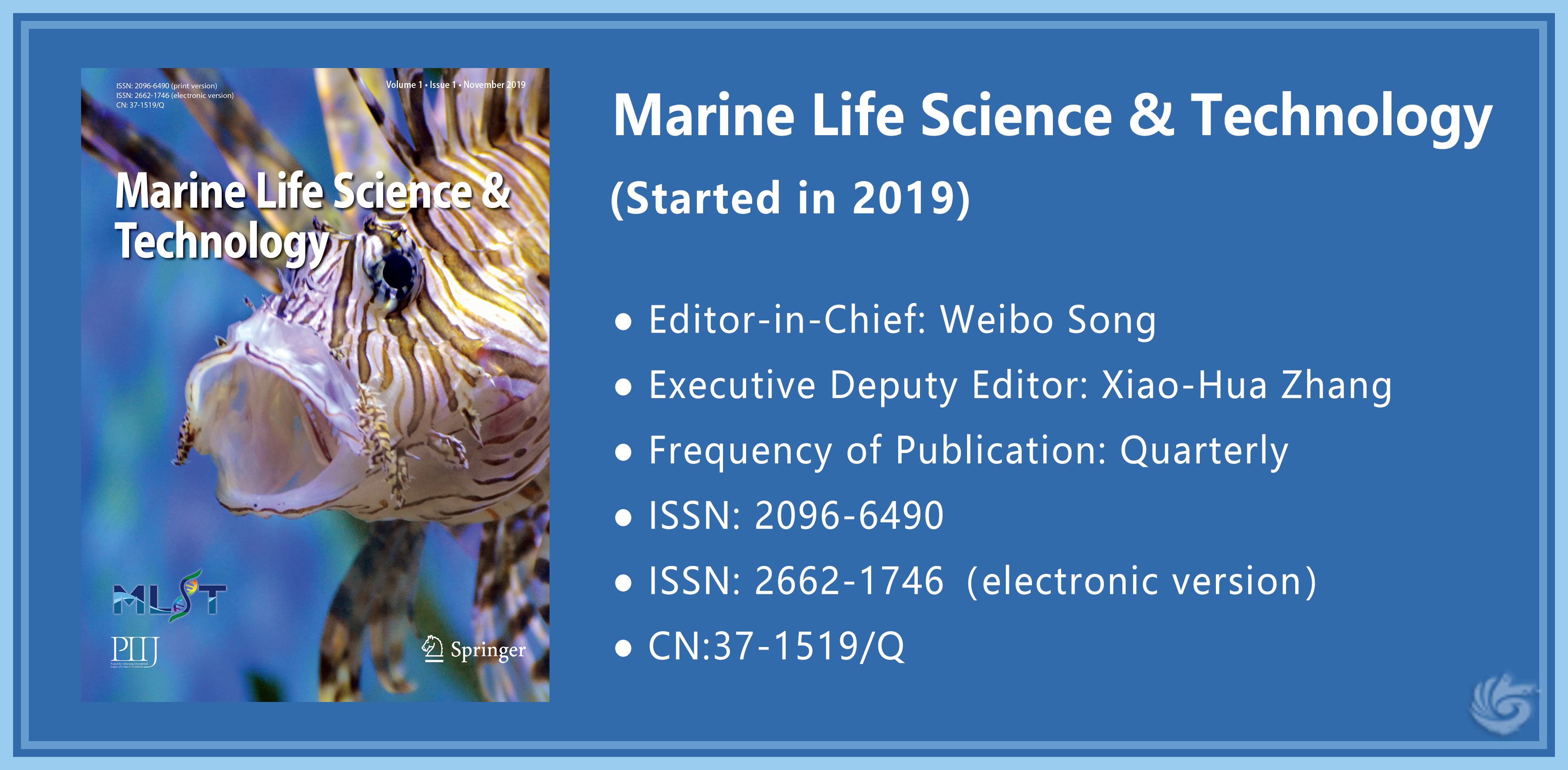 Aims and Scope
MLST features marine life and introduces new discoveries about relevant research areas. The journal targets marine scientists, biological oceanographers, conservation biologists, marine technologists, policy makers and legislators. Accordingly, we will publish original research papers across a broad range of marine life science and technology with an emphasis on synergistic interactions of multiple disciplines. Both theoretical and practical papers are welcome, including laboratory and field experimental studies relevant to marine life science and technology. We also encourage focused reviews, viewpoints, comments, and short communications. Moreover, as the journal's aim is to foster multidisciplinary approaches to marine sciences, we highly value papers that contribute interdisciplinary results.
Specifically, but not exclusively, MLST covers the following topics:
1.Basic Biology: including biodiversity, development and evolution, genetics, reproductive biology, biochemistry, cell biology, omics and bioinformatics, epigenetics, stem cell biology, physiology and immunology, zoology, phycology, and microbiology.
2.Fisheries Science: including marine fish biology, early life history, feeding and trophic dynamics, stock assessment, recruitment and reproduction, fisheries management, aquaculture engineering, stocking and enhancement technologies, aquatic breeding, aquafeeds, and aquatic disease.
3.Marine Drugs and Bioproducts: including marine medicinal bioresources, bioactive natural products, pharmacology, lead compounds, drugs, and bioproducts.
4.Food Science: including marine food chemistry, food nutrition, food processing and storage, food biotechnology, food safety, and food microbiology.
5.Biological Oceanography: including marine plankton and benthic biology, microbial oceanology, fisheries oceanography, marine ecology, and food web dynamics.
Our advantages
1.Our outstanding Editorial Board is composed of 81 members, coming from more than 10 nations all over the world (http://mlst.ouc.edu.cn/news/EditorialBoard.htm). The Editorial Board members participate in the plant-wide manuscript processing and gatekeeping;
2.Global visibility, available in SpringerLink;
3.Powerful academic support, provided by the two sponsors, QNLM and OUC;
4.Rapid peer review and advanced online publishing; publication cycle will be limited within 4 months;
5.No page/color charges, open access options/No APC charges;
6.Free language editing after acceptance;
7.Generous rewards for soliciting contributions and high-quality contributions.
Editorial Office Contact
Add.: Room 436, No. 238, Laoshan District, Qingdao, China
Tel.: 86-532-66782213 86-532-66782235
Email: mlst@ouc.edu.cn
Official Website: http://mlst.ouc.edu.cn
Online submission via: https://mc03.manuscriptcentral.com/mlst