Recently, Pilot National Laboratory for Marine Science and Technology (Qingdao), QNLM for short, and the European Marine Energy Centre (EMEC) signed an agreement to promote the construction of offshore test centre for marine energy converters (MECs) in China.
Scheduled to be in operation by 2020, the test site for MECs will consist of two offshore test berths - one for wave and one for tidal stream - sharing one onshore substation. Each berth will be connected to the controlling centre via a subsea cable with a rated capacity of 200kw. As a partner, EMEC will provide support with the design and technical specifications for the test centre, and will also guide standard operating and testing procedures.
Oliver Wragg, Commercial Director at EMEC said, "EMEC is keen to continue building collaborative R&D and innovation links between the UK and China to help motivate the development of ocean energy on a global scale." Paul Wheelhouse, the Scottish Government Minister for Energy added, "EMEC has exerted a significant impact on the economy of Orkney, Scottish and UK. I welcome EMEC's diversified activities and am willing to engage with a wide range of partners, including QNLM."
The Chinese representative, Professor Shi Hongda, also director of the Test Centre for Marine Energy at QNLM said, "There is an abundant resource of ocean renewable energy in China. When President Xi Jinping visited the UK in October 2015, we signed the MOU during the 4th Annual UK-China Energy Dialogue. The cooperation between the two sides will effectively promote the rapid development of China's ocean renewable energy exploitation.
EMEC, based in Orkney, in the north of Scotland, is the first and the world's leading facility for testing wave and tidal energy converters in real sea conditions. It has been providing testing service for a vast majority of distinguished wave energy and tidal power plants in the past 15 years.
The signing ceremony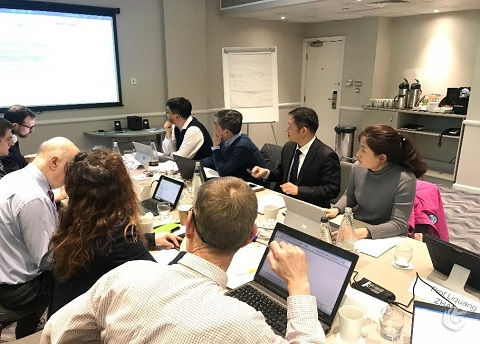 Technical communication