To uphold the spirit of "Memorandum of Understanding on Cooperation" signed in 2015 and "Letter of Intent" signed in 2018 between QNLM and P.P Shirshov Institute of Oceanology, Russian Academy of Sciences (IORAS), QNLM-IORAS Workshop on China-Russia Arctic Research Center (CRARC) was held recently in QNLM. Apart from the QNLM experts, three IORAS guests attended the workshop represented by Dr. Konstantin Roginskiy.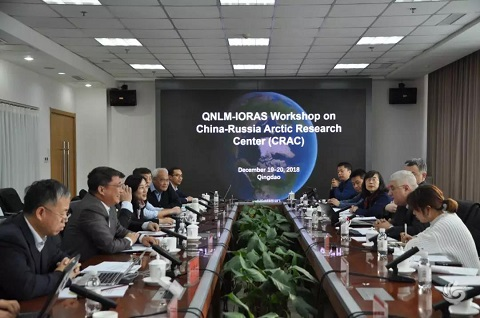 During the workshop
The representatives of the two parties held in-depth discussions and reached consensus on such specific issues as Ten-Year Science Plan, Five-Year Action Plan, concept design of the center, and joint cruise in 2019, etc.
According to Prof. PAN Kehou, Secretary-general of QNLM Academic Committee, China-Russia Arctic Research Center (CRARC) is an important part of QNLM's global innovation network, which will not only promote Arctic research, but also boost the construction of the "Silk Road on Ice". It also marks an important step to implement the cooperative consensus reached by leaders of the two countries.
Group photo of the workshop