Recently, the Ninth International Symposium on Marine Corrosion and Control organized by the Open Studio for Marine Corrosion and Protection, QNLM, was successfully held. The symposium, established in 2000 by Academician HOU Baorong,chief scientist of QNLM and director of Open Studio for Marine Corrosion and Protection, QNLM, and Professor Tooru Tsuru of Tokyo Institute of Technology, is hosted every two years by China or Japan in turn. 2018 marks the opening of the fifth symposium held in China. Over 100 experts and scholars from more than 10 institutions and organizations in Japan, South Korea, Indonesia and China have participated in the symposium.
Productive results have been obtained in this Symposium, which has not only promoted the development and exchange of cutting-edge anti-corrosion and protection technologies and products, but also demonstrated China's outstanding achievements in this field. In order to promote the latest developments of marine engineering materials in China, probe deeper into the research of marine new materials and anti-corrosion technology, enhance the communication over comprehensive marine protection technologies, the symposium has invited many research teams including those from Tokyo Institute of Technology. Prof. Atsushi Nishikata and Researcher CHEN Zhuoyuan, Researcher DUAN Jizhou and Prof. Yasunori Tanji, Prof. Masatoshi Sakairi and Researcher WANG Peng, Researcher WANG Xiutong and Prof. Eiji Tada have delivered reports and hosted discussions on such topics as atmospheric corrosion, microbiological corrosion, water environment corrosion and protection technology respectively. The participants spoke highly of the speeches and exchanged ideas on a series of issues such as new technologies for corrosion prevention, the application of corrosion engineering, marine environmental corrosion, corrosion inhibitors, microbial corrosion, corrosion monitoring, and cathodic protection technology.
The symposium shows QNLM's endeavor to implement China's national policy of "going out", which is also viewed as a great platform for the regular and in-depth academic exchange among the Asian countries, bringing these countries closer to each other.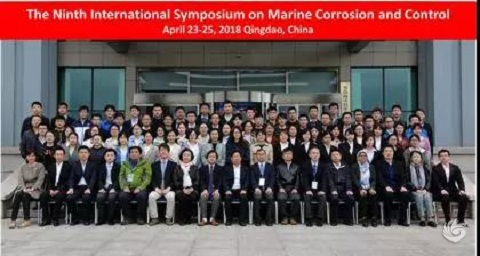 Group Photo