Just one year ago, May 22, 2017 witnessed an epoch-making event in QNLM history. The Centre for Southern Hemisphere Oceans Research (CSHOR) was launched by QNLM and CSIRO in Hobart, Australia. As the first overseas venture of QNLM, CSHOR has made marvelous progress in scientific research in its endeavor to be one of the best overseas marine research institutions of QNLM.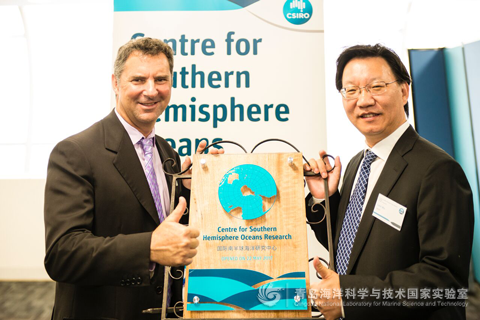 QNLM's Director Wu Lixin and CSIRO' s Chief Executive Larry Marshall
launching CSHOR (Photo by Francois Fourie)
Looking back to the past year, major achievement has been made by CSHOR scientists in the following respects. To begin with, several breakthroughs have been made in understanding present and future dynamics of El Niño Southern Oscillation (ENSO) and the Indian Ocean Dipole (IOD). CSHOR scientists have found that extreme El Niño frequency increases linearly with the global mean temperature towards a doubling at 1.5 °C warming but continues to increase for at least another century after the 1.5 °C warming is reached, in a paper in Nature Climate Change. Moreover, huge efforts have been made in Southern Ocean observations. Based on previous Argo float deployments, CSHOR scientists have discovered that wind-driven changes in formation and subduction of Subantarctic Mode Water explain the large increase in ocean heat content in the Southern Hemisphere Oceans. Also, CSHOR researchers aboard the RV Investigator have found a shift in a decade-long trend towards fresher, and less dense water off Antarctica. As of March 2018, 16 high-level CSHOR articles have been published in top international journals such as Nature Climate Change and Journal of Climate.
The productive work of CSHOR in Southern Hemisphere Oceans have attracted top talents from all over the world. Headed by 3 academicians from Australian Academy of Science, this top-notch research team consists of over 10 new scientists recruited from China, Australia, America and many other countries. Director of CSHOR is Dr. Cai Wenju, a Chief Research Scientist at QNLM and CSIRO Office of Chief Executive Science Leader, who specializes in research into global climate variability and change. He joins CSHOR through a global recruitment process. Due to the excellent work in talent introduction and international collaboration, CSHOR wins an award at a Chinese International Talents Exchange Forum in Shenzhen April 2018 in the category of "Achievement in International Talents and Knowledge Introduction and International Collaboration", the only winner for the category and the only winner from Shandong Province.
Many scientists spoke highly of the CSHOR achievement over the past year. According to Dr. Tony Worby, Director of CSIRO Oceans and Atmosphere, "CSHOR has had a very positive first year. We have recruited many new young postdoctoral fellows and researchers into the QNLM-CSIRO partnership, which will give us a great opportunity to really focus on the most important science questions in the Southern Hemisphere Oceans and understand the patterns of variability that drives our climate. " Dr. Matthew England, an academician of Australian Academy of Science, leader in CSHOR Southern Ocean Project and professor of Climate Dynamics at the University of New South Wales also commented that "CSHOR is amazing because it gathers talents all over the world for Southern Hemisphere Oceans Research."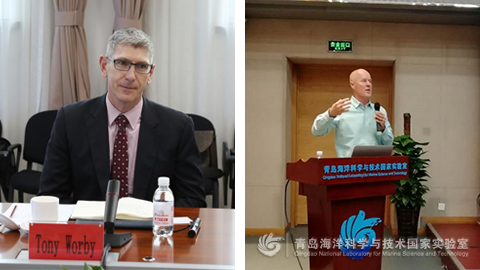 Dr. Tony Worby Dr. Matthew England
On May 3, CSHOR organized an annual workshop to review the scientific achievement and plan for the following year. This workshop also aims to promote cross-project research collaboration to advance the six main projects initiated by CSHOR.
A CSHOR Science Plan for the next 5 years, by which the Southern Ocean variability under the climate change is the focus. CSHOR will actively participate in international activities in organizations and programmes on Southern Oceans and initiate an International Southern Ocean Research Program with other institutions. Dr. Cai Wenju remarked that "CSHOR has been performing extremely well, and it is perhaps time to think about its longer-time as to vision as to how this partnership can grow even stronger and prosper further."
Dr. Cai Wenju
The achievements and visions of CSHOR have won international praise and support. The International Advisory Committee of CSHOR has gathered world-class talents to provide strategic advice on the scientific direction of CSHOR. The committee includes Prof. An Zhisheng, a member of the Chinese Academy of Sciences (CAS) and Foreign Associate of the National Academy of Sciences (NAS), a world-leading scientist of Earth Sciences, Dr. Sue Barrell, Chief Scientist and Group Executive, Science and Innovation at the Australian Bureau of Meteorology, Dr. Gwen Fenton, Chief Scientist at the Australian Antarctic Division, Dr. Paul Hardisty, Chief Executive Officer of the Australian Institute of Marine Science, Dr. Michael McPhaden, a senior scientist with the US National Oceanic and Atmospheric Administration's Pacific Marine Environmental Laboratory in Seattle, Washington, and Prof. Martin Visbeck, chairperson of the physical oceanography at GEOMAR Helmholtz Centre for Ocean Research Kiel and Kiel University, Germany. The International Advisory Committee Members also spoke highly of CSHOR. They commented that, "CSHOR is an excellent team and the series of seminars is a great display of excellent science that CSHOR is doing".
CSHOR Science Workshop
As the first overseas center of QNLM, CSHOR shoulders responsibility of piloting and demonstrating for advancement of QNLM' s global network for collaborative innovation. With establishment of more overseas centers in the future, the great efforts of QNLM to promote ocean research and international collaboration will contribute to building a community of shared future for the mankind.