On April 20-21, 2017, Aoshan Forum on "Marine Sensor R&D and Deployment" was held in Qingdao National Laboratory for Marine Science and Technology (QNLM). Executive chairmen were undertaken by Academician Wu Lixin, Director of Executive Committee of QNLM, Professor Zheng Rong'er from Ocean University of China (OUC), Prof. Zhou Meng from Shanghai Jiao Tong University. Academician Liu Wenqing, Director of Anhui Institute of Optics and Fine Mechanics from Chinese Academy of Sciences (CAS), Prof. Tian Jiwei from OUC, Prof. Tao Jun from Guangzhou Marine Geological Survey, Prof. Ma Hui from Tsinghua University, and Prof. Guan Yafeng from Dalian Institute of Chemical Physics of CAS, also attended the conference. There were over 200 professional experts on marine sensor R&D field from more than 30 marine research institutes or universities participated including from Institute of Oceanology of CAS, National Deep Sea Center, Xiamen University, Zhejiang University, Peking University, Shandong University, Harbin Institute of Technology, Institute of Oceanology of CAS, South China Sea Institute of Oceanology of CAS, Xi'an Institute of Optics and Precision Mechanics of CAS, Yantai Institute of Coastal Zone Research of CAS, Institute of Electronics of CAS, The First Institute of Oceanography of State Oceanic Administration, Institute of Oceanographic Instrumentation of Shandong Academy of Sciences, etc.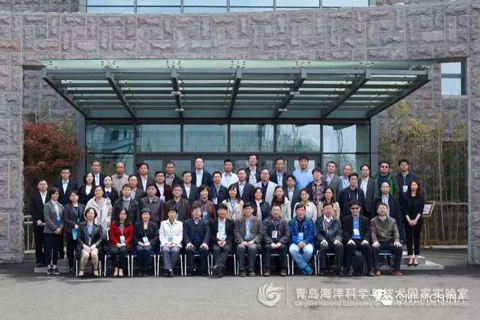 Group Photo of Participating Experts
Wu Lixin (Director of QNLM)

The marine sensors plays an important role in marine research, and the successful convening of this forum will be a better guidance and promotion for marine sensor development.
Director of QNLM Wu Lixin
At the forum, Academician Liu Wenqing, Prof. Tian Jiwei, Prof. Zhou Meng, Prof. Tao Jun, and Prof. Chen Xue'en made reports respectively on "Optical Technology for Environmental Monitoring and its Marine Sensor Application", "Development Thinking of Marine Sensor Development in China", "Complexity and Uncertainty of Ocean Process", "Sensor Deployment and Detection on ROV 'Haima'" and "Measurement Standards for Marine Instruments and Equipment in Sea Trial". Later, the participating experts had a warmly discussion, brainstorming and exchange ideas around topics of the status quo of marine sensors development nationally and internationally, opportunities and challenges of Chinese marine sensors, new sensor technology, marine sensor deployment, etc. The experts also reached a consensus on holding marine sensor salons or establishing an organization related with marine sensor to promote communication between marine scientists, sensor developers and users; to improve the sensor development especially on the new technology, process and testing standardization; to make independently developed marine sensors.
After a two-day forum, experts had fully discussed the latest domestic and international progress on marine sensor R&D and its applications. They also discussed major science and technology issues with constructive solutions. This forum will promote the R&D of marine sensors in China, and lead us to a better and faster development in this field.
Group Photo of the Forum