"Global Ocean Summit2016" was organized by QNLM at Oceantec Valley, Qingdao during 26-28 September, 2016. On the participant list, there are heads of nearly 70 marine-related institutions, universities and international organizations and programs from the world.
Mr. LEI Bo, Director-general of the Department of Science and Technology, SOA, addressed the event. He highly commended QNLM for hosting this summit, which would further strengthen exchanges and cooperation among marine institutions around the world, and promote the sharing of research and education resources, in particular the sharing of research vessels and major research infrastructure. LEI pointed out that SOA would support QNLM in strengthening international cooperation and in its effort to develop into an initiator of big science programs and projects, representing the pinnacle of the global marine science and technology and leading the development of relevant fields.
Dr. WU Lixin, Director of QNLM, academician of CAS, delivered a welcome speech and then a keynote speech entitled "Building the Partnership on Ocean Observation and Research". He highlighted that it's the unshrinkable responsibility of all marine-related institutions and universities to deepen the understanding of ocean system and to tackle global challenges through collaboration since ocean is the main propeller for social sustainable development. As the first national marine laboratory in China, QNLM is ready to join hands with marine institutions from all other countries to press ahead with global marine development collaboratively.
Dr. Margaret Leinen, Director of SIO, USA, gave a keynote speech entitled "International Developments in Observing the Global Ocean" following Dr. WU Lixin. She pointed out that rapid changes in the world ocean call for increased attention to marine observations, in order to better understand processes involved, rates of change and the impact on the ocean and its ecosystems, as well as the potential for adaptation. In her speech, she elaborated on the role of the Partnership for Observation of the Global Ocean (POGO). She noted that POGO is an international consortium composed of major oceanographic institutions around the world represented by their directors, with the aim to establish a sustainable and state-of-the-art global ocean observing system through international cooperation, so as to serve the needs of science and society.
At the summit, over 20 heads of marine institutions and international organizations delivered presentations under the session themes of Development Strategy for Marine Research Institutions, Challenges for Marine Science and Technology, and Sharing Mechanism on Marine Research and Education Resources. They called on research institutions around the globe to share research infrastructure, to cooperate on research projects and to focus on research of ocean and climate change so as to upgrade the sustainable development of the ocean.
Dr. Laurence Madin, Executive Vice President of WHOI, USA, deliver a presentation entitled "Historical Development and Current Evolution of Ocean Science and Technology at Woods Hole Oceanographic Institution". In his presentation, a detailed introduction was given to WHOI, the world's largest private ocean research institution, with an emphasis on its development strategy, partnerships, international collaboration, and remarkable achievements obtained.
Dr. Anil Premaratne, Chairman of NARA, Sri Lanka made the presentation entitled "Challenges for Research Agencies of Developing Countries in Preparation of Coastal and Marine Resources Management Policies-Sri Lankan Experiences". He took Sri Lanka for example to demonstrate that challenges and emerging issues have hampered marine productivity and utilization of marine resources, thus threatening economic stability and food security of coastal communities in developing countries. He highlighted the importance of developing partnerships with other research institutions to share experience and knowledge.
Dr. ZHU Wenxi, Office Director of IOC/WESTPAC, gave an introduction to IOC and WESTPAC in his presentation entitled "Advancing Marine Science Cooperation for Sustainability". He noted that as a key advocate for marine science, IOC and its WESTPAC are ready to spare no efforts in working collaboratively with all enthusiastic scientists representing different institutions, countries, and international programs to advance ocean science for the prosperity of human beings.
Besides the invited speakers mentioned above, many heads of renowned institutions delivered presentations including Dr. Susan Avery, Director Emeritus of WHOI, Ching-Fong Chang, President of Taiwan Ocean University, LI Huajun, Vice President of Ocean University of China, Dr. Gilles Lericolais, Director of the European and International Affairs of IFREMER, Prof. Yoshihisa Shirayama, Executive Director of JAMSTEC, Dr. Martin Visbeck, head of the research unit "Physical Oceanography" of GEOMAR , Dr. Venkatachalam Ramaswamy, Director of GFDL, Dr. Douglas Cripe, Scientific Officer of GEO, etc.
All the attendees highly praised the Summit. It released the Declaration upon conclusion, announcing consensus on jointly assuming the historic mission of expanding systematic understanding of the ocean and addressing current challenges in marine science and technology. Marine institutions around the world will work together to promote the sharing of knowledge and experience, ensure equitable access to marine information, improve the sharing of education resources to promote the development of researchers in marine science and technology, promote the sharing of marine research facilities, and to strengthen engagement with inter-governmental and non-governmental organizations.
There were suggestions from the participants. The communication mechanism should be established to deliver follow-up results of the Summit and to discuss difficulties in marine science policies. Greater cooperation should be realized on deep-ocean Argo observation.
"Global Ocean Summit" is a high-level forum initiated and organized by QNLM. Focused on the theme of "Building Partnership on Ocean Observation and Research", the Summit explores solutions to challenges in marine science and technology resulted from economic development and global change. It advocates for setting up an internationally open network, strengthening collaboration in marine research and observation to inform its use and sustainability, ensuring equal access to information on ocean preservation and utilization, promoting the sharing of observation and education resources and advancing the sharing of major research facilities. The year 2016 is the beginning year of China's 13th Five Year Plan Period. QNLM will take this opportunity to quicken its steps to launch an internationally open network for collaborative innovation, upholding the principles of "Innovation, Regional Coordination, Green Development, Openness and Sharing".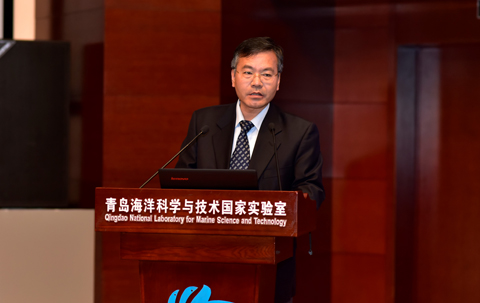 Mr.LEI Bo, Director General of Department of Science and Technology, State Oceanic Administration addressed the summit.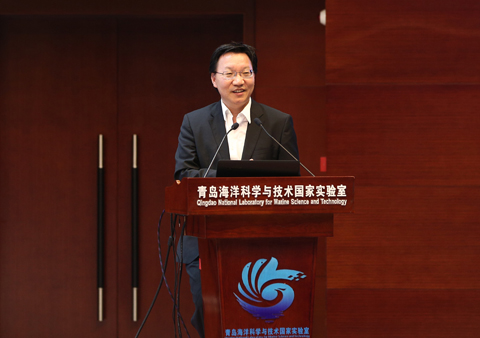 Dr.WU Lixin, Director of QNLM delivered a welcome speech.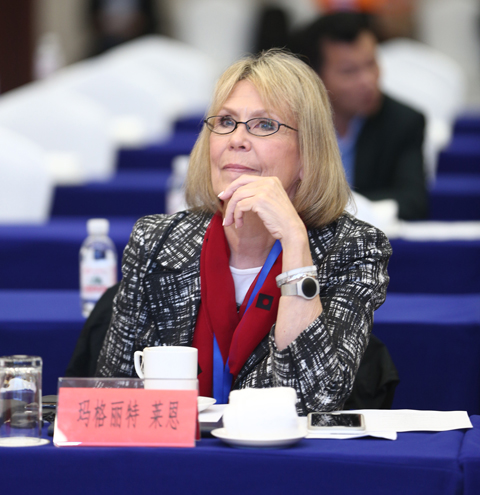 Dr.Margaret Leinen, Director of Scripps Institution of Oceanography attended the summit.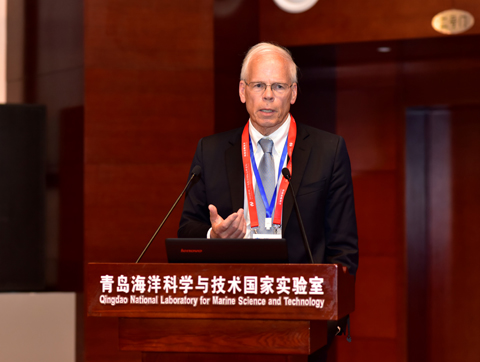 Dr.Laurence Madin, Executive Vice President of Woods Hole Oceanographic Institution (WHOI) made an introduction to WHOI.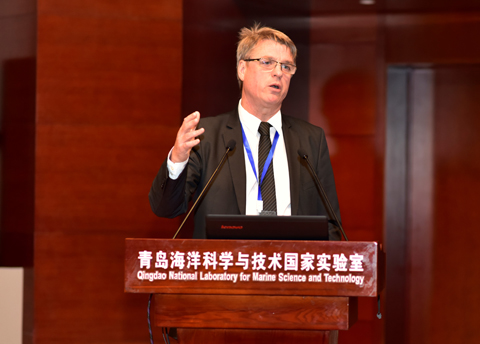 Dr.Gilles Lericolais, Director of the European and International Affairs of Ifremer made proposals for marine science and research.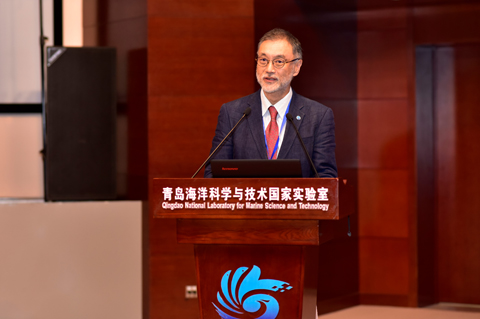 Dr. Yoshihisa SHIRAYAMA, Executive Director of Research, Japan Agency for Marine-Earth Science and Technology (JAMSTEC) made an introduction to JAMSTEC.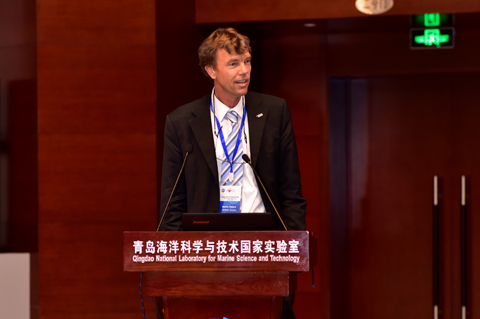 Dr.Martin Visbeck, Head of the research unit "Physical Oceanography", Helmholtz Center for Ocean Research Kiel (GEOMAR) made an academic report.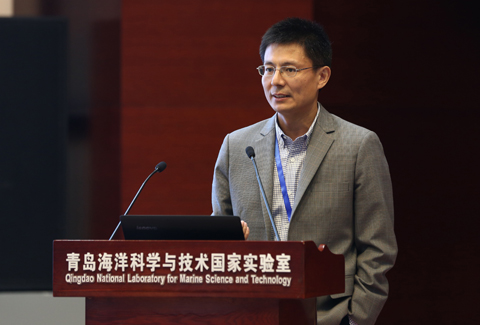 Dr.ZHU Wenxi, Head of UNESCO/IOC Regional Office for Western Pacific and its adjacent regions (WESTPAC) made a report.



Group photo of the heads of marine institutions attending the summit