News by Topic (September):
QNLM and Springer Nature Deepen Comprehensive Cooperation
QNLM signed Memorandum of Understanding (MOU) with Springer Nature in Shanghai on September 21, 2018 to utilize the global high-quality resources to implement its international goal and construct a world-leading integrated marine scientific research platform. Mr. WANG Zaiyi, Executive Deputy Director of QNLM and Mr. Daniel Ropers, CEO of Springer Nature signed the MOU on behalf of both parties. Based on the MOU, QNLM and Springer Nature will work together to enhance the international recognition and brand image of QNLM, showcase the excellent marine scientific research achievements and conduct international talent recruitment through the international scholar communication platforms, networks and resources. In addition, Springer Nature will provide scientific writing training and editing service and conference support to help QNLM significantly promote the communication of scientific achievement and the international influence in academic exchange.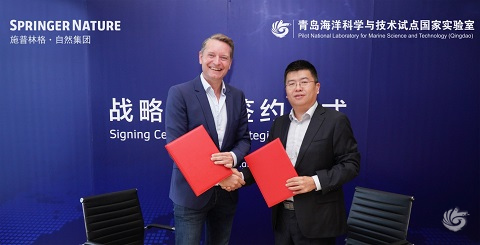 Fig. 1 Mr. WANG Zaiyi , Executive Deputy Director of QNLM and Mr. Daniel Ropers,
CEO of Springer Nature sign the MOU for both parties.
Mr. WANG Zaiyi said in his speech that QNLM, as China's first and unique national laboratory in pilot operation, conducts researches of both basic and cutting edge levels in line with the national marine development. Aiming at establishing a world-class integrated research center of marine science and technology as well as an open platform for collaborative innovation, QNLM actively seeks to utilize international advantageous resources to promote the sharing and international influence of its research results. Springer Nature has a series of high quality products and service for research community, which would be of tremendous assistance for the research capacity building of QNLM. Mr. Daniel Ropers said in his speech that as an international academic publisher, besides publication business, Springer Nature also provides other services such as customized training and career development support to promote the scientific research efficiency and exploration. Springer Nature would be glad to expand cooperation with QNLM and assist QNLM to attain its strategic development goal.Referring to Global Ocean Research and Technology Innovation Index Report (2017), the innovation output and application of marine science research and technology in China have ranked among the world's top players. In China, marine science and technology development is shifting onto an innovation-driven path, with more significance attached to international cooperation. Nature Index shows that the high-quality scientific papers by international cooperation has a ratio of more than 50% in QNLM. The signed MOU between QNLM and Springer Nature will establish a policy framework and a foundation to deepen the all-round cooperation between the two parties.
Fig. 2 Group photo of signing representatives from QNLM and Springer Nature