On Nov. 9, 2018, top journal Science published an article to introduce QNLM's efforts in creating partnerships to strengthen ocean science, attracting worldwide attention.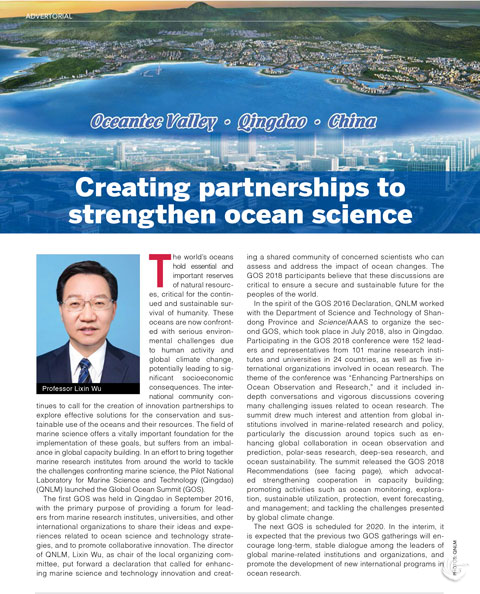 According to Prof. WU Lixin, QNLM director and academician of the Chinese Academy of Sciences, QNLM will make unswerving efforts to promote partnerships among marine research institutes from around the world to tackle challenges confronting ocean science and contribute to the world's oceans and humanity. QNLM will also take the lead in promoting ocean sci-tech innovation to drive the development of Qingdao Oceantec Valley, setting an example for global ocean management.
To achieve this goal, QNLM has launched the Global Ocean Summit (GOS) and the first GOS was held in Qingdao in September 2016, during which Prof. WU Lixin put forward a declaration that called for enhancing marine science and technology innovation and creating a shared community of concerned scientists who can assess and address the impact of ocean changes. In the spirit of the GOS 2016 Declaration, GOS 2018 has attracted 152 leaders and representatives from 101 marine research institutes and universities in 24 countries, as well as five international organizations involved in ocean research to make in-depth conversations and vigorous discussions on the theme of "Enhancing Partnerships on Ocean Observation and Research". The next GOS is scheduled for 2020 and it is expected that the previous two GOS gatherings will encourage long-term, stable dialogue among the leaders of global marine-related institutions and organizations, and promote the development of new international programs in ocean research.
In the future, QNLM will continue to create partnerships to strengthen ocean science and contribute more for the sustainable development of the world oceans and for the benefit of all humanity.
阅读原文:https://www.sciencemag.org/advertorials/creating-partnerships-strengthen-ocean-science